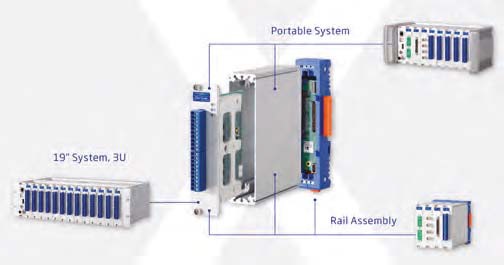 July 2019, MARIETTA, GA ~ The electric vehicle (EV) market is growing remarkably fast, with targets for CO2 emissions playing an essential role in the ongoing global low-carbon transition. However, even with the many advances in EV technology, there remain significant obstacles to overcome in terms of the reliability, longevity and sustainability of electric vehicles.
The Q.series, Gantner Instruments' bestselling DAQ product line, has been extended to include a variety of high-voltage isolation measurement modules to support customers in electric motor and inverter testing, battery and battery charge testing, and mechanical and vibration testing applications.
Gantner's Q.series high-voltage isolation DAQ measurement modules are suitable for voltage, current, RTD, thermocouple, Integrated Electronics Piezo- Electric (IEPE) and strain gauge sensors sampling up to 100kHz. All high-voltage modules include a minimum of 1,200V DC channelto- channel, channel-to-supply, and channel-to-bus galvanic isolation. Additionally, Gantner's brand-new Q.boost module is capable of voltage and current measurements up to 4MHz, enabling highly accurate and dynamic power measurements directly on the inverters.
The channel granularity of the Q.series, combined with the flexibility to mix and distribute both low- and high-voltage isolation modules, assures customers that they have a powerful, flexible DAQ system to assist in overcoming challenges in EV drivetrain work.

For more information on Gantner Instruments' Solutions click here.

To schedule a product demonstration please e-mail sales@flwse.com.