August 2019, MARIETTA, GA ~ The pureO3 Dissolved Ozone Sensor with Intelligent Sensor Management (ISM®) technology provides reliable measurement with increased stability in pure water applications. Advanced design features and robust measurement technology ensures accurate and reliable measurement down to zero ppb.

Robust and Reliable Measurement
The pureO3 has been optimized to provide a stable robust, reliable ozone measurement

Excellent Accuracy and Repeatability
Robust measurement technology offers the most accurate and repeatable ozone measurement available on the market

Easy to Use
Plug and measure eliminates the need for programming the transmitter

Easy to Maintain
Intelligent Sensor Management (ISM) and the one-piece membrane cartridge minimizes & simplifies maintenance
Switch to pureO3 Dissolved Ozone System - 50% off Sensors and Components
You can now trade up legacy 6500 and 6510 dissolved ozone sensors and receive 50% off the pureO3 sensor & loop components when combined with the purchase of on-site Start-Up/Commissioning. This service includes verification, transmitter configuration, hands-on operation training and on site calibration.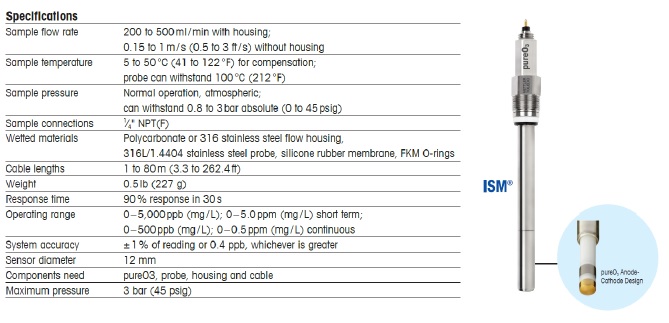 ---
Request additional information or schedule a product demonstration - e-mail sales@flwse.com.

For additional information on Mettler Toledo Process Analytics - please click here.