Fast, Accurate Conductivity Measurement
Mettler Toledo InPro 7100(i)

November 2019, MARIETTA, GA ~ The InPro 7100 is particularly suited for applications in the Pharmaceutical, Food & Beverage, Chemical and Pulp & Paper Industries. The fast response time allows quick detection of process changes, leading to better process control. The PEEK shaft material offers high resistivity against aggressive solutions and is particularly suitable in process with frequent CIP / SIP cycles. The InPro 7100 is compatible with a variety of static (InDip or InFit series) and retractable (InTrac series) housings giving the user a wide choice of installation options.

Features Overview
Wide measurement range (0.02 – 500 mS/cm, transmitter dependent)
High resistance against aggressive chemicals
Compatible with a variety of our static and retractable housing
Common Applications 
Chemical concentration control
Control of CIP processes
Control of digesting and bleaching (Pulp & Paper)
Detection of phase separation (Food & Beverages)
Buffer preparation (Pharma)
General Specifications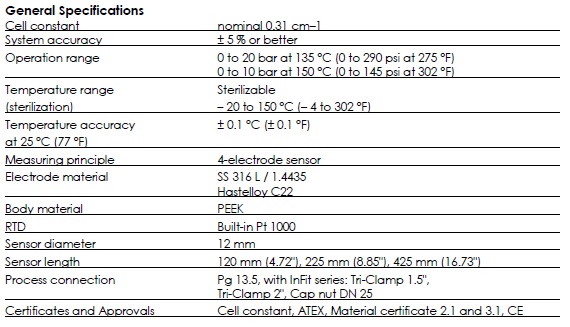 ---

For more information: www.mt.com/InPro7100




To request additional information please contact FLW Southeast sales@flwse.com